What is Herbarium Distillation 29?
Herbarium Distillation 29 is an alcohol-free 0.0% award-winning botanical spirit created to pair with tonic.
Offering a unique balance of juniper, spice and citrus flavours for you to savour, with a full and satisfying taste and a pleasing dry finish. It features:
* No alcohol 
* No sugars 
* No sweeteners 
* No artificial flavourings 
* No allergens
* No calories
Vegetarian and vegan friendly. Gluten free.
To serve, pour 25ml over ice and add 150-200ml of premium tonic and garnish. It also works deliciously well as a main ingredient in alcohol-free cocktails.
Buy now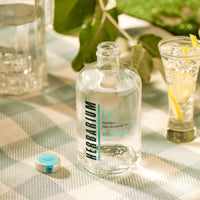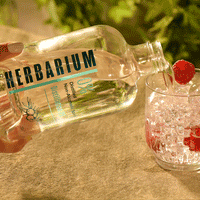 Why choose Herbarium Drinks?
All the flavour is derived from natural botanical ingredients – giving purity and flavoursome taste.
No alcohol is used at any point in our production process, so you can be confident that Herbarium is completely alcohol free.
We do all the distilling, bottling and even labelling ourselves here in the UK!
There are many occasions and reasons why you may not wish to drink alcohol, but you still want to enjoy "a drink" – Herbarium Distillation 29 is the answer to satisfy that need.
Buy now
Testimonials
The main problem I have with many "low and no" drinks is mouthfeel. Beers can just seem like hop-flavoured squash, the "spirits" are all too often like juniper cordials, and I frequently wish I'd just ordered soda water. Herbarium has proven to be a rare exception, a tasty, satisfying drink that doesn't leave you feeling shortchanged, a genuine alternative.

Neil Davey, Food and Travel Writer
A delicious refreshing alternative to G&T, with a lovely citrus flavour. We preferred Herbarium Distillation 29 with tonic, ice and lime but was also tasty with lemonade; calorie free too!

Samantha, Chesham, UK
Unfamiliar with alcohol-free spirits, Herbarium Distillation 29 was recommended to me. I was sceptical at first, but could see the benefits of moving to non-alcohol – now I love it – it's a firm favourite in our household. I'll be recommending to friends…

Mrs F, Bath, UK
Herbarium is everything we'd hoped for when we gave up drinking alcohol. It makes us feel like we're enjoying a "drink", without the guilt.

Adam, Milton Keynes, UK
.... Herbarium Distillation 29 has helped on my fitness journey, and having zero calories is a bonus. Delicious and satisfying – would definitely recommend. 

Ms H, Bedford, UK